One of nice places I took note last year was the lane number 1 Kham Thien street, Dong Da district. This residential area consists of 2-to-4-storey blocks built in 1980s. Although those blocks were built by a railway company for their employees, the whole apartment complex has an unofficial name: Nha Dau dormitory. Nha Dau means House of Petrol in English. The name reminds people of a further past, during the French colonial period, when Shell's warehouse was located inside this lane.
As well as the tobacco factory's dormitory where I took the first photo, Nha Dau is also an old and poor residential area. Some of my classmates used to live in the apartments there. My favorite rental bookstore used to be there. In this way, I'm not new to the corners of the neighborhood. However, I have never kept an eye on the notice boards there until last year.
In Tet holiday of 2018, I took two photos of two boards in two sub-lanes close to each other. They seemed to be coming from the same hand with the same style and tone of voice. "New Year, New Victory", "Celebrate the 88th anniversary of the (Vietnam Communist) Party"… The messages on the boards sound so leftist. Thus, the leader of that residential group sounds to be a faithful party member.
Unfortunately, this year, that loyal party member no longer decorates the boards.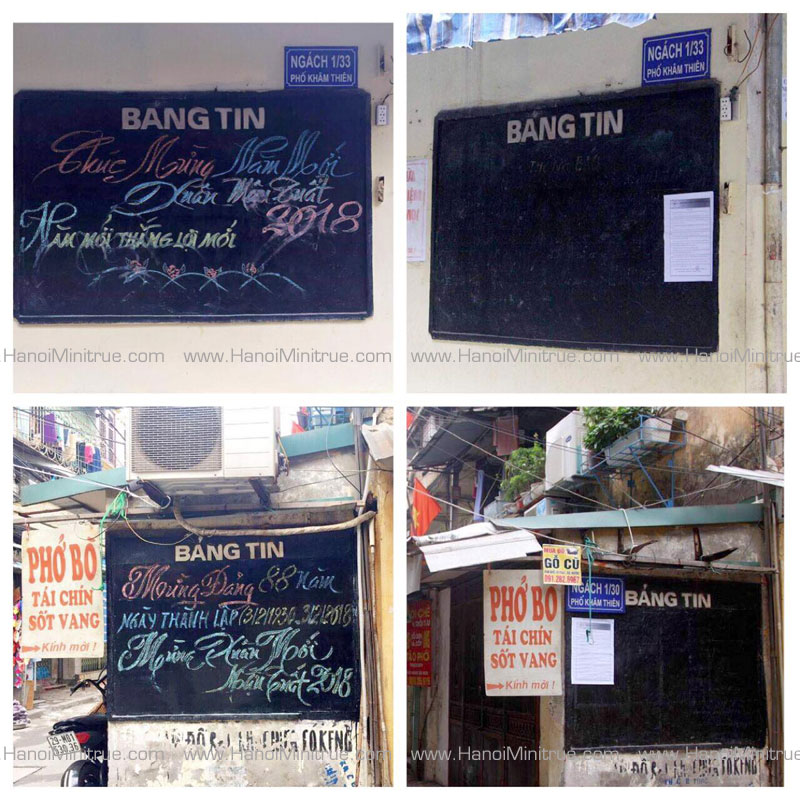 If you happen to capture a board like these, or know who has taken it, don't hesitate to let me know through the Contact page. You also can just leave a comment here or on my Facebook, Instagram. I hope our collection will be more and more praiseworthy.